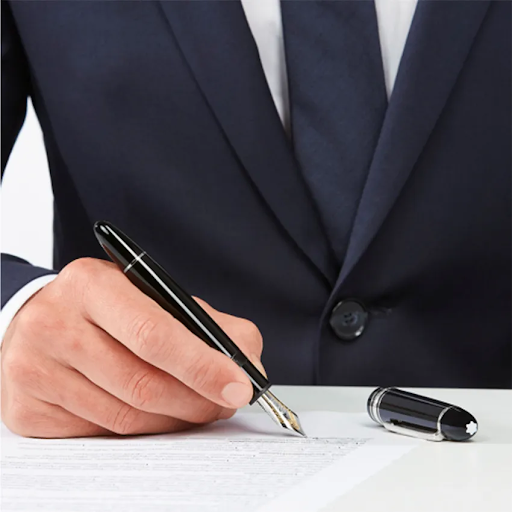 In a world inundated with the fleeting and the ephemeral, there are a few things that have managed to withstand the test of time, asserting their place as quintessential symbols of luxury and grace. One such enduring emblem is the Montblanc fountain pen. 
And when you think of Montblanc in the context of uncompromised quality and trust, the name William Penn often echoes in the corridors of luxury writing instruments. Together, they weave a narrative of class and sophistication.
The William Penn Touch
We, at William Penn, believe that writing should be more of an experience. And as custodian of luxury writing instruments, William Penn has done more than just offer Montblanc pens to the discerning customer. 
A narrative of meticulous craftsmanship, of hours spent ensuring that the nib glides effortlessly across the paper, of making sure that each Montblanc pen from William Penn is not just a writing instrument but an extension of one's persona.
What makes Montblanc Pens so special?
Montblanc pens are the epitome of luxury, crafted with exquisite materials like gold, platinum, and other precious metals gracing their nibs. Furthermore, the pen's body, an alchemy of lustrous resin and enduring lacquer, embodies elegance. Beyond mere aesthetics, each Montblanc pen undergoes rigorous testing, ensuring that it doesn't just meet but surpasses the loftiest standards of quality.
Discover Luxury: Montblanc Fountain Pens at William Penn
1. Montblanc Meisterstück 149 Medium Fountain Pen – Black With Platinum Trims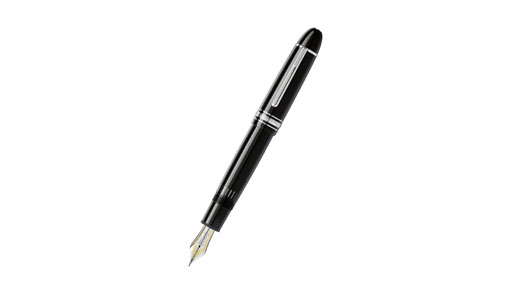 Introducing the Iconic Montblanc 149 fountain pen, a symbol of timeless elegance since 1924. As the most sought-after piece in our collection, its handcrafted Au750 / 18K gold nib boasts a lustrous rhodium-coated inlay. Furthermore, the pen's luxurious black resin barrel and cap are accentuated with a platinum-coated clip, uniquely marked with an individual serial number. 
Adorned with three platinum rings embossed with the distinguished Montblanc name, as well as, capped with the signature Montblanc emblem inlay, this pen is not just a writing instrument, but a testament to unparalleled craftsmanship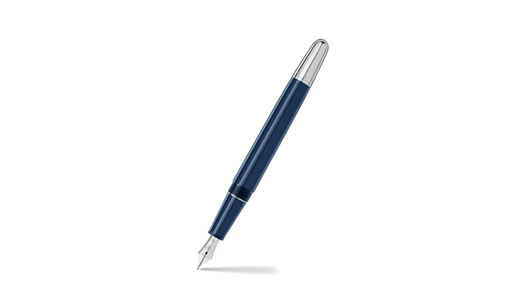 Experience the pinnacle of craftsmanship with our Montblanc fountain pen, boasting a rhodium-coated, 14k gold medium nib. 
Delicately engraved is Fogg's iconic London-Bombay journey and the silhouette of his legendary hot-air balloon, evoking tales of adventure. Furthermore, the pen's deep blue hue, juxtaposed with an intricate wave pattern on the cap, draws inspiration from the mesmerizing Mediterranean Sea. 
A refined touch is added with a clip showcasing a black lacquered Ace of Spades symbol. Every detail culminates in a work of art, beautifully presented in a luxury gift box, awaiting the discerning connoisseur.
Montblanc Fountain Pen is a timeless gift
Montblanc Fountain Pen from William Penn is not just a gift; it's a legacy. It's a way to say, "I value you, I recognize the indelible mark you've made in my life, and I present you with something that embodies permanence and prestige. So, if you want to gift something valuable to your loved ones, get your hands on this premium pen range
Wrapping Up
William Penn's Montblanc fountain pens are not mere tools of writing. They are, in many ways, a reflection of one's aspirations, achievements, and desire to be associated with nothing but the best. In the dance of luxury brands that constantly vie for attention, this collaboration stands out, not just for its product but for the experience it promises and delivers.
In a world where 'class' and 'sophistication' are often overused and diluted, here's a combination that genuinely embodies and elevates the essence of these words. Ultimately, it's not just about owning a luxury item; it's about being part of a timeless narrative of elegance.