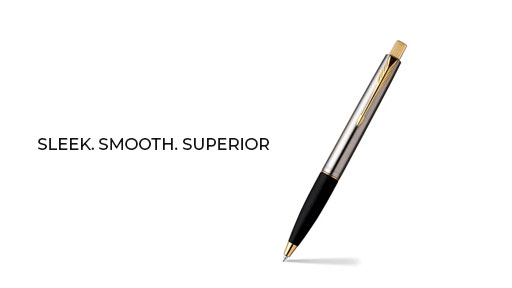 In a world of keyboards and touchscreens, there exists an old-world charm in the tactile joy. putting pen to paper in the act of writing and for those who value this experience, selecting the right pen is an art. Today, we journey through the realm of premium ballpoint pens online, not just as writing instruments, but as emblems of elegance and ergonomic excellence.
The Allure of the Premium Ballpoint Pen
A premium ballpoint pen is not merely a tool; in one quick twist of the barrel it captures one's style, aspirations, and, at times, even their legacy. 
When you hold such a pen, it should elicit an instant connection and not only fit perfectly in your hand but also resonate with your soul. Online shopping today offers an unparalleled array of choices, but how do you choose that iconic ballpoint pen that's truly meant for you? 
Join me as I explore a few of the premium choices offered by William Penn that will make you want to turn into the architect of your destiny with these exquisite ballpoint pens.
Shopping Ballpoint Pen Online from William Penn
Montblanc Starwalker Metal Ballpoint Pen Metal
The Montblanc Starwalker is the collection's new design that celebrates the immense emotion of seeing our blue planet floating in the vast expanse of space. It features a blue translucent dome beneath the floating Montblanc emblem in transparent cap-top, reminiscent of the earth emerging above the lunar horizon. The Starwalker metal comes with a platinum-coated barrel and fittings including its clip with embossed Montblanc brand name and individual serial number that testifies its authenticity.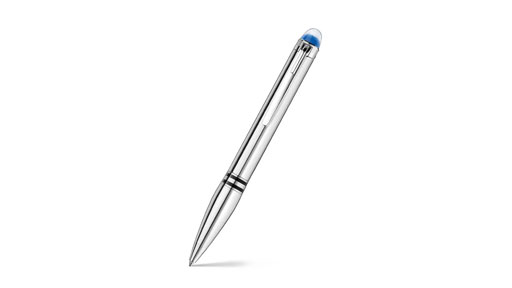 Montblanc Meisterstück Classique 'Around The World In 80 Days' Ballpoint Pen – Anthracite With Gold Trims
Inspired by Jules Verne's famous adventure novel, the Classique ballpoint pen in anthracite precious resin pays homage to the second leg of the journey, which spans from Bombay to Yokohama. It boasts a majestic elephant cartouche on the cap and a radiant red lacquered diamond card suit on the clip and is a masterpiece of design. 
The cap top is intricately embossed with the journey's length, making it not just a writing instrument but a representation of a timeless tale of adventure in the palm of your hand.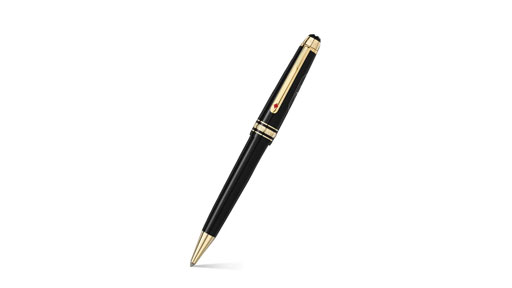 Montblanc John F. Kennedy Ballpoint Pen – Blue With Platinum Trims
Commemorating the iconic life of J.F. Kennedy, with this special edition exquisite pen, that makes symbolic references to his life via subtle design details. Crafted in a deep blue precious resin for both cap and barrel as an acknowledgment of his time spent in the Navy and his Ivy League style. 
Accented with a platinum-coated clip and the three platinum-coated cap rings that represent the three Kennedy brothers. The elegance of this ballpoint pen is undeniable. Each special edition pen is crowned by the Montblanc emblem in precious resin and is accompanied by a signed and stamped warranty card, assuring its authenticity. Presented in a luxurious gift box, it's not just a writing instrument but a piece of a legacy.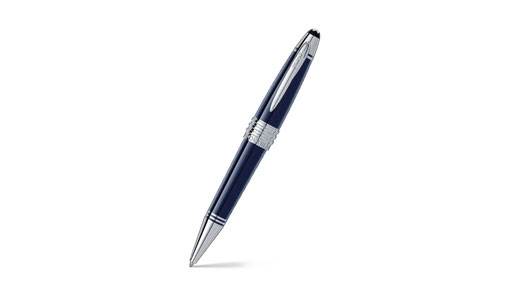 Montblanc Meisterstück Classique Ballpoint Pen – Black With Gold Trims
This exquisite pen is crafted in deep black, precious resin with gold-coated details and is surmounted by the white star emblem which is a distinctive design icon. It's gold-coated clip, engraved with an individual serial number, exudes elegance and is matched by three gold-coated rings embossed with the iconic Montblanc brand name on the trim. 
The cap is meticulously inlaid with the Montblanc emblem, a hallmark of luxury. This splendid writing instrument comes complete with a signed and stamped warranty card and is presented in a luxurious gift box, making it the perfect treasure or a cherished gift.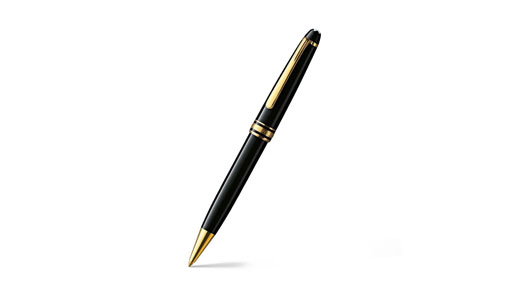 Sheaffer® VFM 9427 Glossy Ballpoint Pen With PVD Gold-Tone Trim
Experience the new statement of writing excellence and elegance with the popular Sheaffer VFM that makes an impact with its modern, tapered Silhouette, showcasing sophistication in a glossy light grey finish accentuated by gold-tone trim. Crafted robust brass body featuring a seamless click propel/repel mechanism. This smart and elegant ballpoint pen proudly sports the Sheaffer White Dot, a timeless emblem of quality, prestige, and performance. Each pen is nestled in a premium gift box, making it the perfect offering for a person with discerning taste.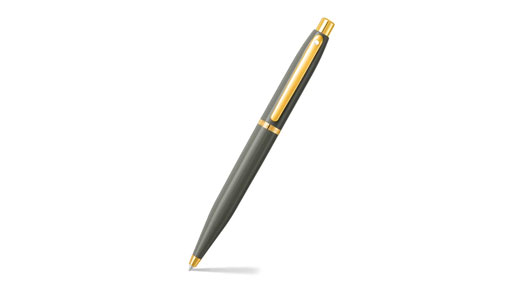 The Grand Finale: Making Your Choice
Navigating the world of premium ballpoint pens online is like embarking on a voyage into the realms of artistry and ergonomics. As we've explored, it's not merely about selecting a writing instrument; it's about finding an extension of oneself—a harmonious blend of aesthetic allure and handcrafted functionality. In the vast digital marketplace, discernment is key, so choose a pen that becomes a statement of your personal elegance and a testament to your appreciation for design, comfort, and the timeless act of writing.
Remember that true ergonomic excellence lies in how efficiently a pen integrates with the ethos of your being whilst delivering unparalleled performance.